Web Design Case Study: Caroline's Skin Care
I. Company Info

Caroline's Skin Care is one of the award-winning companies in Australia that offers effective skincare products. Caroline Monet, the creator and founder of Caroline's Skin Care, created a cream for skin problems and it seem to work effectively. And at this very moment, thousands of people from different places are finding welcome relief and solutions for several skin conditions by using Caroline's Skin Care products.
II. Project Overview
Caroline's Skin Care has been in the skin care industry in Australia for almost 11 years, and has built up an exceptional status with customers who are suffering from different kinds of skin diseases because their products seem to have a great effect on their skin conditions. Given that Caroline's Skin Care has developed a good reputation in the business, they have decided to change the layout and appearance of their website to make its online presence more professional with the help of our company, BMC Solutions. Here's a screenshot of Caroline's Skin Care's OLD website: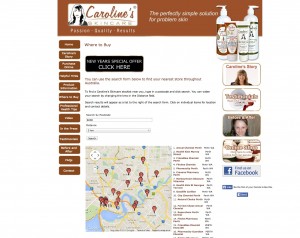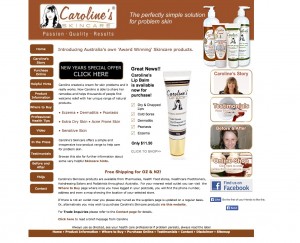 Caroline's Skin Care contacted BMC Solutions to revolutionise the look and feel of their website including enhancing its online visibility and making it mobile responsive allowing audiences and potential clients to have a bigger possibility of acquiring more information from their website reflecting the websites main purpose, to provide quality and effective products and services to their customers. But prior to carrying on with the process of developing Caroline's Skin Care website, we initially made a study concerning the company's target market and audience for us to know what's best and effective for Caroline's Skin Care website.
III. Our Solution
We set up Caroline's Skin Care website with the use of a mobile responsive theme that emphasizes the company's call to actions, latest offers and other important purposes well. Aside from giving the website a more professional look by redesigning its logo and other features, we have also incorporated the website with an array of helpful sections which are listed below.
A slide that shows the results of using Caroline's Products to show potential clients and audiences how effective their products are.
A featured slide of testimonials from happy and satisfied customers that will prove the efficiency and positive results their products are providing to customers.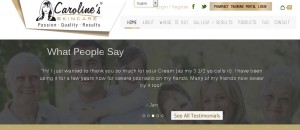 Newsletter sign up field that will help their customers to become more updated from the latest news, product offers, and deals from Caroline's Skin Care straight to their inboxes.

A huge slide of call to actions for a more effective sales and lead generation which also serves as the Landing Page of the website.
IV. Outcomes
After we implemented the solutions that we prepared for Caroline's Skin Care website, they have noticed an increased of sales and enhanced online visibility of their website on search engines like Google and Yahoo. Caroline's Skin Care was also satisfied and contented with the new look and feel of their company website. It's easier for their customers to keep in touch with the latest news and updates from their website because newsletters are enabled. And most importantly, its mobile responsiveness has made it easier also for people to reach out and visit their website from anywhere. The professional look and feel of the new website design has reflected the company objective of providing quality and effective products and services well. Also, the new set up of the Landing Page, wherein we emphasized all the important call-to-actions and offers, has indeed attracted a lot of attentions from audiences and potential clients resulting in increase of sales and leads.
V. Client Testimonial