Web Design Case Study: Community Vision
I.Company Info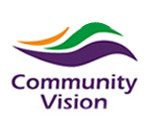 Community Vision Inc. is a not for profit civil service, established in 2001 to deal with the increasing needs of people in Perth's northern bounds. They offer services and assistance for people of all ages including seniors, children, veterans and handicapped. Their services present a selection of options to preserve and improve quality of life in ways that are significant to each human being.
II.Project Overview
Since 2001, Community Vision has been providing support and assistance to the people of Perth's northern suburb to help them improve their way of living. Knowing the fact that they have already helped and assisted a lot of individuals from Perth, they surely have gained a lot of recognitions and good status from all over Australia. And at this time, they are the ones who asked for support from our web development team, BMC Solutions, to improve their website. Here's a screenshot of their old website: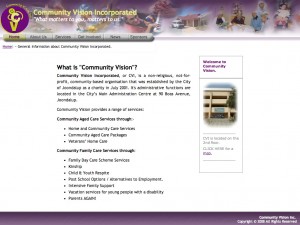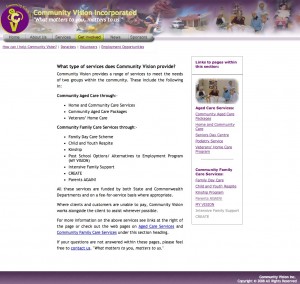 Community Vision asked for BMC Solutions assistance to help them transform and modernise the appearance of their website for a more appealing approach to their website visitors. Community Vision wanted their website to get noticeable by many so they can reach out to their target audience effectively and to inform people about the services that they are offering. Their target audience includes people who need assistance and help. Also, they need to get the attention of those people who might provide donations and aids to the people in need through their website. Community Vision told us to mirror the look of their website to the company vision and main purpose to extend a helping hand. To begin with the website development for Community Vision, we made a study relating to how the organisation should move towards to their target audience.
III. Our Solution
We revolutionised Community Vision website by giving it a more modernised look that showcases the organisations vision and mission effectively. We implemented an easy to navigate website menu, provided section for testimonials, page sliders, featured videos on the sidebar, and a button for donations. Listed below are the features that we have emphasized on the website to help them show their organisation information well.
An Easy-To-Navigate Menu that will help website visitors to navigate on different portions of the website easily.

A Testimonial Section that will testify the organisation legitimate services and assistance. An organisation that serves its people well surely deserves good feedbacks.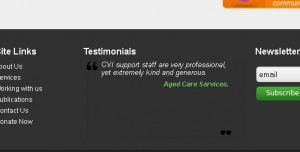 A Page Slider that pictures and shows off the organisation's purpose which is to help individuals who are in need.
A section for featured videos and news in the sidebar that will keep website visitors updated regarding the latest news, videos and announcements from the organisation.
A noticeable donation button has also been implemented so that, those good people who are interested in donating some funds for the organisation can easily contribute.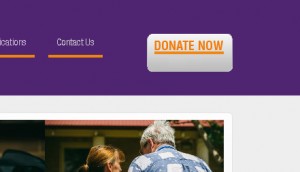 IV.Outcomes
After our team at BMC Solutions put the prepared plan into actions, they have seen and observed an increase of support and donations for their organisation because the website's online visibility has also been improved. People are more fascinated by the new look of their site as well as the display of information. Also, many have been encouraged to donate to the organisation because the website has effectively shown a good status and quality of service for those who are in need. Plus, Community Vision is also fulfilled and pleased with their new and revolutionised organisational website. It's more convenient for their supporters to keep up a correspondence with the most up-to-date news and information from their website because of the new features that has just been implemented. The new modernised appearance of their organisation's website has indeed revealed their purpose of extending a helping hand effectively.
V.Client Testimonial
Jenni Werner CEO, Community Vision