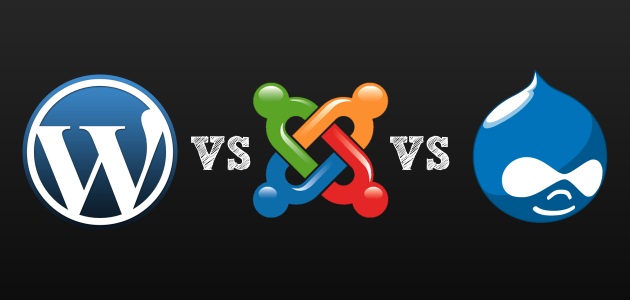 August 01, 2014
Which From These 3 Best CMS Platforms Suits You?
For the past few years, the field of website development have changed into becoming steeper and broader. The birth of PHP has in fact dominated the world of web developers and in general, the web usage. It's no wonder that even the three most widely used and best CMS platforms are written and presented in the form of PHP, to be particular WordPress, Joomla and Drupal. Despite the fact that these three's performances and purposes are always being compared and correlated, making up your mind on which CMS to put into practice can absolutely link on many aspects that differ beyond roles and managements.
From a web developer's perspective, Drupal presents a considerably difficult and complicated track to learn than of Joomla and WordPress. Â That's why Drupal is being considered as a powerful and developer-friendly CMS platform by professional web developers. If they were to rate Joomla, it will go between WordPress and Drupal when it comes to complexity and demand for time venture and study, wherein a beginner could create a personalized and complex website. If you have a not-that-professional technical know-how, then WordPress might be the perfect and suitable choice of CMS for you. Even though it is trouble-free to make use of, you could still expand its components through their plugins that are certainly easy and simple to utilize.
From the viewpoint of other users and organizations, Joomla and WordPress will be usually their choices. For them, the two both covers more of their required components, performance, functionality and user-friendliness, which majority of firms and organizations necessitates. Largely, many will opt for WordPress because it is also a good and powerful tool for blogging while many other firms and groups will choose Joomla because it is more advanced and complex than WordPress and also for the reason that it is a middle ground between Drupal and WordPress. For bigger organizations, Drupal is the most appropriate and suitable CMS platform because of its verified scalability and support. It is mostly the choice of websites that has a high performance and accessibility.
To sum up everything, all of these three content management systems have their specific flaw and potency and your choice will depend upon the needs and desires of each organization and web developers. WordPress is more suitable for those who will create a blog and personal websites. And at the price of technical complexity, websites of big enterprises and applications or programs that call for utmost customization and scalability may choose Drupal. In between the two is Joomla that also offers good CMS performance that requires reasonable learning and study. Joomla is also easy to use but more advanced than WordPress.
What are your estimations about these three content management systems? Which do you think is suitable for you? Feel free to share them below.